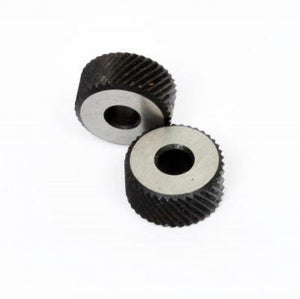 Knurling Wheel Replacement for Midas or Granite Quick Change Tool Post (AXA)
45-274
Change holders in the blink of an eye and get on dead center effortlessly with this maintenance-free wedge-type toolpost. All working parts are hardened and ground. Tool holders are interchange with Aloris toolposts. Toolpost includes six pieces:
A. Turning and facing holder -
Accommodates various bit sizes and tools.
B. Boring, Turning, and facing holder -
features V-groove for round 1/2"- shank boring bars and tools as well as square tool bits.
C. Heavy-duty boring-bar holder with a split brushing -
Accepts 5/8" and 3/4" diameter boring bars, grips with rigidity, and cuts smoothly.
D. Universal parting blade holder -
Use for bevel and T-cut blades to get close cutoffs to the chuck. *blade not included.
E. Knurling holder -
Includes a set of high-speed, precision-ground, lapped, medium diamond knurls 3/4" x 3/8" x 3/4"
---
We Also Recommend