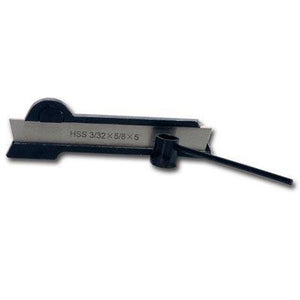 Heavy Duty Cutoff Tool
K99-145
Smithy exclusive. Most cut-off tool holders are too tall for the standard turret style tool holders that come standard on the Midas, Granite Classic and Granite MX lathe tool posts. It will also fit in the standard tool posts on the MI-1237L and MI-1340L lathes.
These 5/8" tall straight-shank blades are drop-forged, and heat-treated. The holder is a Smithy design and fits great in the Smithy compound angle tool posts. Machined to precise tolerance, overall length is 5", Your order comes with holder, blade and wrench. The holder features a 1/2' shank on the backside that mounts into the tool post turret. This blade can be resharpened until the holder can no longer grip it. Consider having a 2nd blade as backup. Replacement blade is 75-015.
The 75-015 blade will not fit in the Quick Change Tool Post - the replacement blade for the QCTP is 75-001.
---
We Also Recommend